The LG Tone Studio wireless headset with 3D surround sound is launching this month
1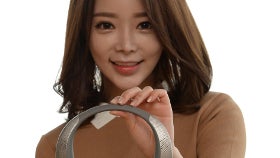 LG is getting ready to release a brand new wireless headset that aims to "reinvent the definition of premium mobile sound." Part of LG's
Tone
series of audio products, the headset is called LG Tone Studio (model HBS-W120), and will be available starting later this month in various markets, including North America.
According to LG, the Tone Studio is "the world's first wearable audio device to deliver 3D surround sound on the go." In addition to two regular earbuds, the new accessory packs four built-in speakers: two full range speakers that sit below your ears, and two secondary speakers that vibrate against your collarbone. The idea here is to provide immersive sound while not isolating the listener from the surrounding environment (which is useful in various situations, including when driving or biking).
The LG Tone Studio features Bluetooth, DTS sound, and a Hi-Fi DAC (digital to analog converter). Other technical details haven't been revealed.
In South Korea, the LG Tone Studio will cost 239,000 KRW, which means it may be priced at around $200 once it's available in the US. So, would you buy this new LG headset (maybe to pair with with the upcoming
G6
smartphone)?