Amazon starts selling the LG Stylo 5 (with Alexa) at a discounted price
0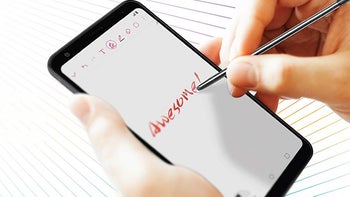 Not long after being released by various US carriers, the
LG Stylo 5
was
launched unlocked
, too - so customers can now buy it for use with any mobile service provider they want. What you may not know is that, as of today, the unlocked LG
Stylo 5
is also available in an Amazon-exclusive version at a tempting discount.
Amazon's LG Stylo 5 comes pre-installed with
Amazon Alexa
, the company's own virtual assistant, which can be activated by double-pressing the phone's power button. Similar to
Google Assistant
or Apple's Siri, Alexa lets you use your voice to play and pause music, check the weather, search the web, and so on. Other Amazon apps that you'll find on the Stylo 5 include Amazon Music and Amazon Shopping.
You can get the unlocked LG Stylo 5 in two color variants from Amazon: Silvery White and Black. The handset comes with US warranty and is compatible with all major carriers: Verizon, AT&T, T-Mobile, and Sprint. As we already mentioned, the phone is offered by Amazon at a tempting discount - right now, you can
save $80 on it right HERE
. That's 27% off the regular price.
Specs-wise, the LG Stylo 5 with Amazon Alexa isn't different from the phone's previously released carrier and unlocked versions. The handset's highlight features include a built-in stylus pen, 3D surround sound, a
6.2
-inch display with 1080 x 2160 pixels, and a 3500 mAh battery. The Stylo 5 currently runs Android 9 Pie and we assume/hope that LG is already planning to update it to Android 10 (since this was launched by Google earlier in September).