LG Revolution Unboxing
4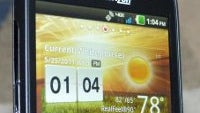 First we saw the HTC ThunderBolt thundering its way to Verizon's lineup as the first 4G LTE enabled smartphone, then soon after that, we also witnessed the arrival of the first DROID branded device with LTE connectivity in the Samsung Droid Charge. However, now we're supposed to be experiencing something revolutionary now that LG is joining the pack with their 4G LTE Android smartphone in the
LG Revolution
.
Although we're surprised to see its packaging donning a
complete black exterior
, with only some Verizon, LTE, and LG brandings etched on some parts, it's still rather strange to see not a single image of the handset anywhere on the box. Considering that we're only
a day away before this thing goes on sale
, we're fairly confident to say that this is what the actual final retail packaging will look like if you happen to pick one up tomorrow. Inside, there's absolutely nothing that we haven't seen before – especially when it packages along the microUSB cable, wall charger, and usual set of documentation. Considering that this is truly yet another revolutionary device, we were hoping to see some additional accessories – like a useful microHDMI cable.
As for the handset, it hasn't changed much since we
first feasted our eyes on it back in January during CES
, but it's still nonetheless your typical high-end handset boasting a larger than life display. Taking to account that it's a 4.3" WVGA (480 x 800) LCD display on there, we're rather impressed to say the least that it's able to produce such
gorgeous and saturated looking colors
– while exuding some great looking clarity and details too. Besides that, the overall construction is pretty tight, especially when it employs a
subtle soft touch coating
all around its exterior. Though, it doesn't necessarily come off as being more solid feeling than the HTC ThunderBolt, but at least its weight and size is more manageable in the hand.
Some of its other features include a 1GHz Qualcomm Snapdragon MSM8655 processor, 5-megapixel auto-focus rear camera, 1.3-megapixel front-facing camera, microUSB port, microHDMI port, GPS, Bluetooth 2.1, 802.11 b/g/n Wi-Fi, Android 2.2 Froyo, 16GB microSD card, and 12GB internal storage. Needless to say those specs aren't anything unusual, but knowing that it's a
4G LTE device
, its ability to exhibit fast data speeds are undeniably its biggest attraction. Then again, it's rather hard to say right now what truly makes this device any better (or not) than the previous two LTE smartphones we've reviewed. Regardless, we'll be testing it out over the next few days to better gauge its performance. So expect our in-depth review soon!
Recommended Stories