LG Optimus G Pro to launch throughout Asia in June
14
As
expected
, LG announced today that it will be releasing its Optimus G Pro flagship throughout Asia.
The smartphone, which has been available in Korea since February and in the U.S. via AT&T since early May, is bound to launch in Hong Kong in June, with other markets throughout the region to follow suit soon after. The
LG Optimus G Pro
is also scheduled to be released in Taiwan, India, Indonesia, The Philippines, Vietnam and Malaysia by the end of Q2.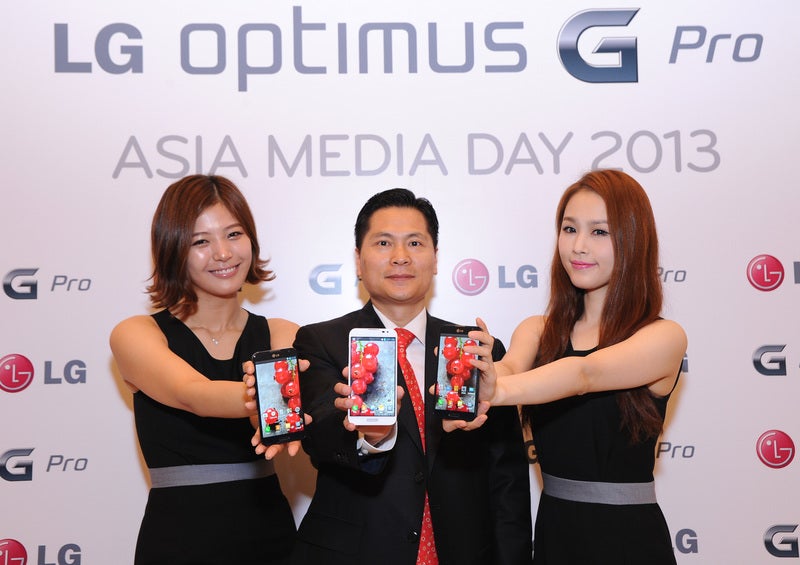 LG Optimus G Pro to launch throughout Asia in June
Specs for the LG Optimus G Pro model tailored for the Asian market remain unchanged. The smartphone will ship with the same 5.5-inch IPS-LCD display with full HD resolution, 1.7GHz quad-core Snapdragon 600 chip, 2GB of RAM, and 13MP main camera, making it one of the most capable Android smartphones to date. As far as colors go, buyers will have two options to pick from – Indigo Black and Lunar White.
Details about pricing have not been mentioned, but the cost of the LG Optimus G Pro will likely vary from market to market. Dig into the the press release embedded below for further details.
source: LG
LG OPTIMUS G PRO ARRIVES IN ASIA
Fully Packed with Advanced UX and Features, LG's Biggest Smartphone
Offers Asian Consumers Differentiated Smartphone Experience
SEOUL, May 30, 2013
— LG Electronics (LG) is demonstrating its commitment to the premium smartphone market in Asia with the introduction of its flagship smartphone, Optimus G Pro, in the rest of the region. Originally introduced in its home market of Korea earlier this year, the 5.5-inch display Android device is being rolled-out in the rest of the region starting on May 30. The smartphone will debut in Hong Kong in June followed by other Asian markets including Taiwan, Singapore, Thailand, India, Indonesia, Philippine, Vietnam and Malaysia throughout the month.
"LG's Optimus G Pro sets a new benchmark in the over 5-inch display smartphone category which is catching on with consumers everywhere who aren't interested in owning both a phone and a tablet," said Dr. Jong-seok Park, president and CEO of LG Electronics Mobile Communications Company. "Asian customers are leading many of today's technology trends and we're confident Optimus G Pro will find a large following in this region."
The Optimus G Pro is equipped with the swift Qualcomm Snapdragon 600 processor, which features a 1.7GHz Quad-Core CPU and Adreno 320 GPU. Combined with other industry-leading features such as a long-lasting 3,140mAh battery and 2GB RAM, LG's Optimus G Pro is one of the most advanced smartphones currently on the market today. With its expansive 5.5-inch 1080p Full HD IPS display delivering a resolution of 1920x1080 pixels at 400ppi, the Optimus G Pro provides razor sharp images and wide viewing angles as well as a comfortable in-hand experience and great "pocketability."
Backed by powerful hardware features, the Optimus G Pro also comes packed with differentiated UX features, such as:
• Dual Camera and Dual Recording: The Dual Camera and Dual Recording functions allow users to capture pictures or videos with both the front and rear cameras simultaneously for a unique picture-in-picture experience;
• VR Panorama: The VR Panorama allows shots of entire horizontal and vertical environments for a full 360° view;
• Pause and Resume Recording: The Pause and Resume Recording feature allows for the recording of short snippets of video which can then be viewed as one continuous file.
• Smart Video: Smart Video recognizes the position of the viewer's eyes and automatically plays or stops the video without any manual input from the user.
Key Specifications:
• Operating System: Android Jelly Bean 4.1.2
• Processor: 1.7GHz Quad-Core Qualcomm? Snapdragon™ 600 Processor
• Display: 5.5-inch Full HD (1920 x 1080 pixels / 400ppi)
• Memory: 16GB / microSD (up to 64GB)
• RAM: 2GB DDR
• Camera: Rear 13.0MP / Front 2.1MP
• Battery: 3,140mAh (removable)
• Size: 150.2 x 76.1 x 9.4mm
• Colors: Indigo Black, Lunar White