LG G3 vs Samsung Galaxy S5 vs Sony Xperia Z2: specs comparison
20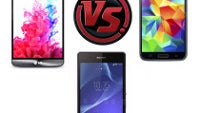 One thing is for sure: the
LG G3
definitely arrived with a bang. The company's brand new flagship sure packs some seriously drool-worthy hardware, not to mention that it is all nestled within an attractive and, all things considered, compact body. And that's not even half of it.
We're, of course, referring mainly to that super-sharp, 1440 x 2560 (QHD) resolution IPS display, but we're also anxious to see how the G3's 13-megapixel camera with the company's new OIS+ stabilization tech, a two-tone flash, and a laser beam focus assist performs. Especially compared to its equally-solid rivals in Samsung's Galaxy S5 and Sony's Xperia Z2.
Indeed, the S5 and the Z2 are shaping up to be one of the G3's main adversaries in the eyes of the industry as a whole. Neither of the two have as an impressively-sounding display, sure, but they're chock-full on hardware features in other areas. The S5, for its part, touts a dedicated fingerprint sensor and a heart rate monitor, while the Z2 offers stereo speakers. The two are also dust and water-resistant -- a chink in the LG G3's armor.
So how do they compare on paper? It's neck-and-neck, we'll tell you that, but the differences are there. Take a look!
Super AMOLED
IPS LCD
IPS LCD
Scratch-resistant glass, Ambient light sensor, Proximity sensor
Scratch-resistant glass, Ambient light sensor, Proximity sensor
Oleophobic coating, Scratch-resistant glass, Ambient light sensor, Proximity sensor
Qualcomm Snapdragon 801 MSM8974-AC (28 nm)
Qualcomm Snapdragon 801 8974-AB
Qualcomm Snapdragon 801 8974-AC
Quad-core, 2500 MHz, Krait 400, 32-bit
Quad-core, 2300 MHz, Krait 400
Quad-core, 2500 MHz, Krait 400
Adreno 330
Adreno 330
Adreno 330
Android (6.0 Marshmallow, 5.1 Lollipop, 5.0 Lollipop, 4.4.4, 4.4.2), Samsung TouchWiz UI
Android (6.0 Marshmallow, 5.1 Lollipop, 5.0 Lollipop, 4.4.4, 4.4.2)
Android (6.0 Marshmallow, 5.1 Lollipop, 5.0 Lollipop, 4.4.2)
21.00 hours
the

average

is 11 h (660 min)
15.00 hours
the

average

is 11 h (660 min)
19.00 hours
the

average

is 11 h (660 min)
16.2 days (390 hours)
the

average

is 29 days (688 h)
28.8 days (690 hours)
the

average

is 29 days (688 h)
22.8 days (548 hours)
the

average

is 29 days (688 h)
21.00 hours
the

average

is 0 h (0 min)
19.00 hours
the

average

is 0 h (0 min)
21.00 hours
the

average

is 0 h (0 min)
30.8 days (740 hours)
the

average

is 0 days (0 h)
23.0 days (553 hours)
the

average

is 0 days (0 h)
25.0 days (600 hours)
the

average

is 20 days (472 h)
Single camera
Single camera
Single camera
20.7 MP (Autofocus, CMOS image sensor)
13 MP (OIS, Laser autofocus, BSI sensor)
Aperture size: F2.2; Focal length: 31 mm; Sensor size: 1/2.6"; Pixel size: 1.12 μm
Aperture size: F2.0; Sensor size: 1/2.3"; Pixel size: 1.12 μm
Aperture size: F2.4; Focal length: 29 mm; Sensor size: 1/3.06"; Pixel size: 1.12 μm
3840x2160 (4K UHD) (30 fps), 1920x1080 (Full HD) (60 fps)
3840x2160 (4K UHD)
3840x2160 (4K UHD) (30 fps), 1920x1080 (Full HD) (30 fps)
MPEG4, H.264
MPEG4, 3GPP
MPEG4, H.263, H.264
HDR, Continuous autofocus, EIS, Video calling, Video sharing
HDR
OIS
2.1 MP
2.2 MP
2.1 MP
1920x1080 (Full HD)
1920x1080 (Full HD)
1920x1080 (Full HD)
5.59 x 2.85 x 0.32 inches (142 x 72.5 x 8.1 mm)
5.78 x 2.89 x 0.32 inches (146.8 x 73.3 x 8.2 mm)
5.76 x 2.94 x 0.35 inches (146.3 x 74.6 x 8.9 mm)
5.11 oz (145.0 g)
the

average

is 6 oz (171 g)
5.75 oz (163.0 g)
the

average

is 6 oz (171 g)
5.26 oz (149.0 g)
the

average

is 6 oz (171 g)
Back: Plastic
Back: Glass
Back: Plastic
Water, Dust; IP67
Water, Dust; IP58
Touch sensitive control keys, Interchangeable covers, Notification light