LG G Pad X 8.0 lands on T-Mobile: affordable Android tablet with Reader Mode, full-size USB port
7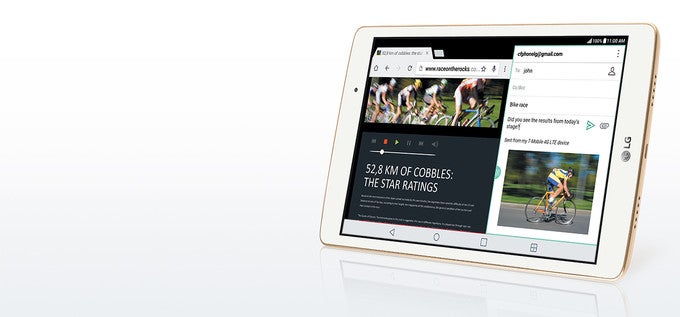 It is not every day that we get to write about tablets, let alone about the release of one. Today, however, is an exception, and the new LG G Pad X 8.0 is to blame. The slate just landed on T-Mobile, carrying a $240 retail price tag, which makes it a value-oriented proposition worthy of consideration.
So, what do you get in exchange for your money? An 8-inch screen, as you can probably guess. Its 1920 x 1200 resolution gives it plenty of detail, while its aspect ratio makes it ideal for watching video. Plus, the so-called Reader Mode filters out blue light at night, preventing it from messing up your sleep. At the back, a fine texture is present to make the device comfortable to hold.
Under the hood ticks a 1.5GHz quad-core Snapdragon 617 SoC, alongside 2GB of RAM and 16GB of expandable storage. Clearly, the LG G Pad X 8.0 is not a powerhouse, but it should be able to handle all but the most demanding tasks just fine. One trick the slate has up its sleeve is the full-sized USB port, allowing you to plug in a regular USB stick and access its content with a file manager. Neat! 5MP cameras adorn the front and back of the device, with the screen able to act as a selfie flash.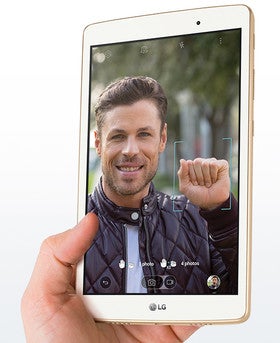 Gesture Interval Shot - one of the many features in LG's Android software
On the software side of things, Android 6.0 runs the show. The OS comes customized with LG's own user interface, which adds a ton of extras, including many that seem quite useful. There's the Split Screen multitasking mode, for instance, and also the option to get your phone's notifications on the tablet's screen thanks to a feature called Q Pair.
While T-Mobile will be the sole carrier to offer the LG G Pad X 8.0 in the US (for now), the tablet is also available in Canada and Korea. It is known as the LG G Pad III 8.0 in these markets and is practically identical to T-Mobile's offering, save for the fact that these foreign variants are configured to support local carriers' LTE network bands.