LG G Flex 2 sales in Singapore start March 14, US & UK carrier availability scheduled for spring
6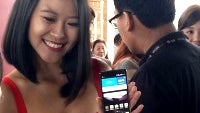 After launching on South Korean soil January 30, the topsy-curvy LG G Flex 2 is starting to cross other countries' bounds. Alas, the innovative handset is still far from reaching US soil. Its second destination is Singapore, where the G Flex 2 will be up for pre-order on February 27 and it will hit retail on March 14. The price tag? It's a steep US $800 (SG$998, £480) unlocked. Then again, it makes sense for LG to position the smartphone as a premium product for tech innovation enthusiasts, and let the upcoming LG G4 steal the masses' hearts with a more traditional design on (hopefully!) a lesser budget.
Americans shouldn't have to wait terribly long for the G Flex 2, though. LG has forged good relationships with the major carriers over the years, so AT&T, Sprint, and US Cellular will be bringing the curved smartphone in the States. Over in the UK, the LG G Flex 2 will be a Vodafone exclusive for six weeks post-launch.
Impossible to miss curves aside, the LG G Flex 2 sports top-notch smartphone internals and exterior, such as a 5.5-inch 1080p plastic OLED display, the Qualcomm Snapdragon 810 64-bit processor, 3GB of LPDDR4 RAM, and a special treat of its own - an improved self-healing back cover that is quick to recover from damage! Check out our hands-on video with the LG G Flex 2 below for a little introductory peek at the Koreans' latest and greatest!