Kingston MobileLite Wireless hands-on
2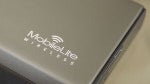 Storage nowadays with our devices is a prime concern, especially when we opt for one that's outfitted with a miniscule amount of memory, so that's why we're more conscious about what we put on and keep. Well, some gadgets offer storage expandability via microSD card slots, but as we've come to see, it's a practice that's not seen too much by many of today's flagship devices. Well, if you're looking for a simple solution, the
Kingston MobileLite Wireless
reader & media streamer seems like a great solution – even more when it's compact, travel friendly, and allows users to share multimedia content on the go.
Similar in functionality to the
Kingston Wi-Drive that we reviewed last year
, the Kingston MobileLite Wireless actually doesn't have its own built-in storage, but rather, it boasts a
full-sized USB port and SD card slot
to enable us to share content wirelessly with up to 3 devices. Visually, we prefer the look and style of the Wi-Drive, seeing that the MobileLite Wireless is a little plain and boring with its rectangular looks – and that's despite using a metallic front panel combined with a mostly plastic body. Thinking about its size, we're surprised to find that it's lightweight and hollow. In addition to being a media streamer, it's also a
portable battery pack
too, seeing that it's packing along an
1,800 mAh battery
.
Currently, the Kingston MobileLite Wireless is compatible to work with iOS and Android devices – with no word at the moment about other platforms. Used in conjunction with the free MobileLite app, we simply load all of our content (music, videos, and pictures) to an SD card or USB flash drive, which is then shoved into the appropriate port in the MobileLite Wireless unit. From there, we can configure it to work with our existing wireless network at home, so we can start streaming content to our devices. Seeing that it relies on
802.11 g/n Wi-Fi
standard, streaming is quickly accomplished with barely any lag or delay with its operation. In fact, the playback quality of a 1080p video on an iPhone 5 performed exactly like it does if it were stored locally.
Taking into consideration that media viewing is all done wirelessly, the MobileLite Wireless proves to be a invaluable item for those who are pressed for local storage on their device. Additionally, it's a neat thing to be able to charge our devices on the go as well, since it acts as a battery pack too. Blessed with a
$59.99
price point, it certainly is well worth the investment!
source:
Kingston