Kingston Wi-Drive review
4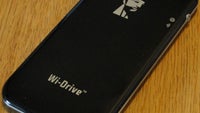 With the amount of data available at our fingertips these days it seems like we could all use a little extra storage. While it's great that a lot of devices have microSD or access to cloud storage, sometimes those cards are located behind the battery, your close to your data cap, or you just want to share your files with a friend or colleague. Today we are taking a hands-on look at a solution that works in all of these situations – the Kingston Wi-Drive.
The Kingston Wi-Drive is a portable wireless storage solution that is available in 16 or 32 GB. It is small and sleek, can serve data for about 4 hours on a single charge, and supports a variety of file types and devices.
Physically the Wi-Drive measures in at just 121.5mm x 61.8mm x 9.8mm. It is constructed of plastic and feels very light. The device is black with silver accents that give it an overall pleasant look. Unfortunately, it has a glossy finish that tends to quickly acquire fingerprints and smudges.
The Wi-Drive is compatible with all iPads, the iPhone 3G/3GS/4/4S, iPod touch, Kindle Fire, Android 2.2 and up, and any browser based system. It can store any file type, but playback is limited to files that your device supports. Typically all devices can play mp3, wav, m4v, mp4, jpg, tif, and pdf without any additional apps. As far as initially setting up your folders and loading the Wi-Drive up with media, any device that supports USB storage can be directly plugged into the Wi-Drive via USB. The operating systems Kingston lists as being supported are Windows XP, Vista, and 7, Mac OS 10.5 or later, and Linux 2.6 and above.
Android and iOS devices can download the free Wi-Drive app from their respective app stores. The app allows you to manage the drive, browse content, and playback media. We were very impressed with the speed that content was played back at. Even larger files, such as movies, quickly buffered and began playing. Interestingly, Kingston designed the movie player to buffer the entire video up front. Because of this, there is a slight delay when first playing the file, but you are then able to skip around the film with little to no delays. We found the embedded music player a bit lackluster, but it did serve basic functionality. The rest of the files gave us the choice to pick our favorite app to open them with, which we really liked. Overall we found the device to respond very well.
Since the device uses Wi-Fi rather than Bluetooth, you have the ability to change the SSID and security settings. At first look, we were concerned about being able to use this device and a Wi-Fi connection at the same time. Luckily Kingston added an option that allows you to configure the Wi-Drive as a wireless bridge. While we did see a bit of a performance hit when using it as a bridge, overall it worked very well and it is great that it offers the option to use both connections at once. While the device itself will not limit the amount of connections, Kingston recommends not exceeding 3 devices that are simultaneously streaming media at the same time for performance concerns.
The Kingston Wi-Drive is a great little gadget to add to your mobile arsenal and we could definitely see it replacing USB drives, printed handouts, and potentially even slide decks on a projector in business meetings. For the more casual user, it is a great way to quickly share music, movies, and photos with friends, or even set the kids up with a movie on a tablet or smartphone during a long road trip. Overall we were very impressed with the Kingston Wi-Drive. It is compact, sleek, and easy to use. The 16GB version is only $50 and the 32GB model can be had for $100.