Kids toys with apps: from LEGO to RC cars, robots and paper planes
1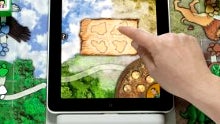 "Kids these days," said no parent ever when they discovered how easy it is to keep your toddler's mind occupied and torso still, while watching a cartoon on the tablet, or playing a game on the smartphone. While not exemplary parenting, the kids' addiction with the mesmerizing stuff happening on the touchscreens before them can easily be transformed into a more interactive undertaking, blending the physical and virtual for a more realistic experience.
From Lego toys that come with their own storytelling apps, to remote-controlled cars, boats, planes, and even friendly robots - our trusted Android or iOS devices can deliver a childhood like no other before it, complete with more toy interaction you've ever dreamt of.
Have you thought of flying a tiny drone into your grandfather's cattle herd and watching the damage when you were a kid, or roaming the neighborhood streets with an RC car sending live footage to your iPhone? We bet you appreciate the possibilities, so take a look at some modern toys with apps, and promise us your kid will get to play at least a little bit after you take over the virtual wheel.