Kids Edition of Amazon Echo Dot adds new skills from Disney and others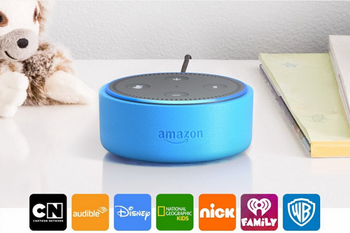 Back in April,
Amazon unveiled a version of the Echo Dot made specifically for children
. Called the Echo Dot Kids Edition, the puck shaped smart speaker is wrapped by a brightly colored protective casing and comes with a free year of Amazon FreeTime which includes special content for kids, ad-free streaming radio, Audible Books and premium kids' skills. It also features an age-appropriate version of Alexa that not only answers questions, it is also programmed to teach. The price of the Echo Dot Kids Edition is $69.99.
And now, Amazon is adding new skills for the device including one called "Sleep Sounds" that help children fall asleep with 42 different soothing sounds. Options include the sound of a running vacuum cleaner, cars running on the road, and trains traveling on the tracks. A game called "Disney Plot Twists" is narrated by some of the characters from "Frozen," and asks the kids to come up with words and phrases to fill in the blanks placed randomly in a story. If it sounds like a version of Mad Libs for the little ones, you'd be right. This is a Kids Edition exclusive.
Other exclusive skills for the Kids Edition include:
Loud House Challenge
No Way That's True
Funny Fill In
Spongebob Challenge
Weird but True
Name that Animal
This or That
Word world
Ben ten
Classroom thirteen
Batman Adventures
Climb the Beanstalk
Parents can download an app that allows them to monitor their kids' usage of the Echo Dot Kids Edition. If interested in purchasing the Amazon Echo Dot Kids Edition, click on this
link
.