Keep you skin clear with the Samsung Galaxy S Femme bundle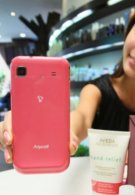 There are limited edition handsets out there that undoubtedly pack along some new items with certain phones to make it unique versus its original form. Then there are others that might seem a little gimmicky in what they offer, but is still accompanied with some sense of purpose – to some people, but not all.
We've known for a bit that a
pink colored Samsung Galaxy S
would soon be available in South Korea, but now it appears as though it's going to be included with a special bundle that's probably fitting for a female friend. The Samsung Galaxy S Femme bundle will come along with that much wanted decked out pink Galaxy S handset, however, it even comes along with Aveda's Damage Remedy and Hand Relief creams.
Yes! You'll probably need it to grasp this pink flavored device in the presence of the damaging sun – while you check out the Aveda adviser app that is found on the 4GB microSD card with it.
Samsung Galaxy S Specifications
|
Review
via
Engadget
&
MobileCrunch