Pink colored Samsung Galaxy S is headed to South Korea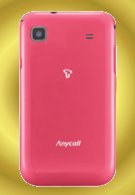 However, it looks as though that it's about to change as a pink colored variant of the smartphone is going to make its debut in South Korea. As you can tell from the image, the handset sports that striking pink color that should cater to those individuals that want something that will stand out amongst the usual crop.
In the mean time, it's unclear whether or not if this unique looking colored Samsung Galaxy S will eventually make its way to the various international versions out there, but we're sue there are some people clamoring for something like this.
Samsung Galaxy S Specifications
|
Review
via
Samsung Hub