KGI's Ming-Chi Kuo: Apple shipped 73 million iPhones in Q4
35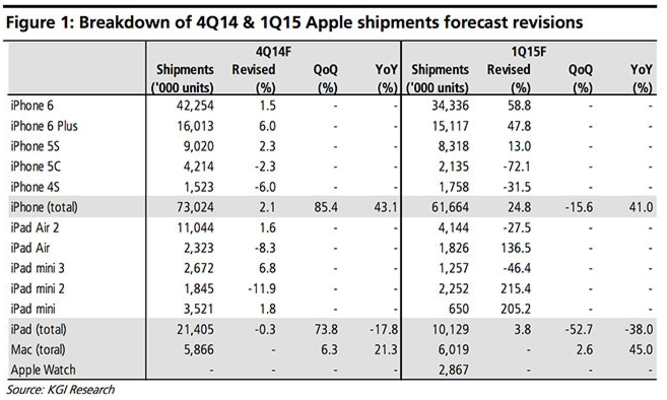 KGI analyst Kuo says that Apple shipped 73 million iPhones in Q4
KGI Securities analyst Ming-Chi Kuo is well connected when it comes to Apple. So when he makes a forecast, those interested in Apple need to listen. Kuo recently whipped out his trusty abacus and estimated that 73 million iPhones were shipped during the final three months of the year. That would be a 43.1% year-over-year increase, and an 85.4% increase sequentially from Q3.
Kuo's first quarter 2015 estimate calls for shipments of 61.6 million iPhones. That would represent a 41% gain year-over-year, and a 15.6% decline sequentially from the fourth quarter. But that decline would be coming off the extremely bullish fourth quarter figure, which means that for all intents and purposes it can be ignored. The more pertinent number would be the yearly comparison.
As for the Apple iPad, to show you how rough things have been in the tablet sector, Kuo says that Apple shipped 21.4 million slates in the fourth quarter. While that is up a whopping 73.8% from the third quarter, it is actually a decline of 17.8% from the previous year's fourth quarter. For the first quarter of 2015, he sees iPad shipments of only 10.1 million units. That would be a decline sequentially of 52.7% from Q4 and 38% from last year's opening quarter. Larger screened phones (like the
Apple iPhone 6 Plus
) are putting a damper on tablet sales industry wide.
Lastly, the analyst sees Apple launching the Apple Watch in March, and with only weeks to sell the timepiece for inclusion in first quarter figures, he is estimating shipments of 2.87 million watches for the period that ends in March.
source:
AppleInsider