Join the club: Foxconn shares drop 4% after it warns of red ink for 2012
2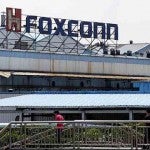 Apple isn't the only company whose stock is being taken out back and shot after making a pronouncement about earnings.
Apple's stock is down close to 10%
after the tech giant reported its fiscal first quarter earnings. The company that
assembles
the vast majority of Apple's mobile devices, Foxconn, saw its shares drop 4% in Hong Kong on Thursday after the contract manufacturer said that low demand from its clients will result in a net loss for 2012.
$226.07 million
in its first half, the worst showing it ever had in the period. Foxconn expects its second half loss to be smaller than the loss it reported in the first half. But the red ink it will spill for the whole year will be the first annual loss for Foxconn since 2010. That year, Nokia started losing market share which hurt Foxconn's business.
This past fourth quarter, shares of Foxconn rallied after speculation that Foxconn parent Hon Hai Precision Industry Co. would pass some of its Apple iPhone assembly business to the contract manufacturer. This was never confirmed by Foxconn or Hon Hai and Nomura analyst Aaron Jeng said, "
We believe the speculation on Hon Hai's Apple order transfer was overdone
." Another analyst, Barclays' Dale Gai, said any positive contribution from Apple would be delayed until the second half of 2013.
"We are not expecting strong demand in the first half of 2013, based on the weak first-quarter sales guidance Apple announced today, as we expect Hon Hai to continue keep all iPhone assembly production at its owned facilities."-Dale Gai, Barclays;' analyst
source:
Reuters