Look out below! Apple is down $55 after-hours as earnings disappoint
53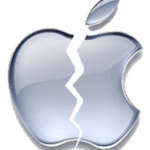 After closing at $514.01 in regular trading, Apple's earnings have shocked the investment community and the stock is now trading after-hours at about $459 for a
better than 10% decline
. And yet, you will read that Apple set records for quarterly revenue, quarterly earnings, the number of Apple iPhones sold and the number of Apple iPads sold. Where did the company go wrong?
One major area that analysts were not happy with was Apple's gross margins, which dropped to
38.6%
from the
44.7%
recorded last year. The average price Apple recorded for each Apple iPhone sold was $641.57, close to last year's number. But the average price received per iPad sold dropped from $568.16 in the 2012 quarter, to
$469.93
. That is the result of adding the lower priced
Apple iPad mini
. One margins start declining, they tend to continue dropping. This one piece of data alone should scare Apple as it shows that Android tablets are beginning to take share away from the iPad.
Apple iPhone 4
was "in constraint" during the entire quarter. But this is the lowest priced smartphone in Apple's lineup and is offered free with a two-year contract by some carriers. This lowers margins and reduces the average price of sold iPhones. Cook was making this sound like a positive when frankly, it is the kind of thing that Apple investors fear. This quarter could give the suits in Cupertino a reason not to produce a low priced version of the Apple iPhone as it would bring margins down even more.
Apple could nip this in the bud by using some of the $137 billion in cash it has, to buy back a chunk of stock. The best way Apple can do this and achieve the results they want would be to buy a percentage of the stock outstanding at a premium in a tender offer. This would have much more of an impact than merely buying shares in the open market from time to time.
We're not sure what will change the current feelings about Apple. we've pointed out over the last few weeks how there is a malaise surrounding the company and there is the question if Apple has lost its
edge
. Something has changed and as Bob Dylan once sang, "You don't need a weatherman to know which way the wind blows."
Apple sold a record number of Apple iPhones and Apple iPads
and still can't please the investment community. The best thing that Tim Cook can do is to blow up current plans for things like a low-priced Apple iPhone and even put
talks with China Mobile
on the backburner. Apple has always been a company producing innovative new products and different variations of the iPhone is not innovation. Selling more of the device in China is not innovation. It is time for Cupertino to put the ol' thinking cap on and wow us with something new.
source:
Bloomberg
,
WSJ
,