John Chen said last week that the BlackBerry Priv is getting a price cut in February
30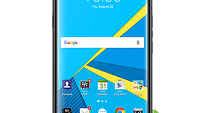 Some consumers who love the
BlackBerry Priv
, are turned off by the $699 price tag that the manufacturer affixed to the phone. But good news might be coming in the form of a price cut. That comes directly from the company's CEO, John Chen. As we told you on Friday,
BlackBerry delivered a better than expected third quarter earnings report
as it spilled less red ink than expected. The company sold 700,000 handsets in the period, lower than expected. Priv sales were not broken out of the total.
During the conference call that followed the release of the earnings report, John Chen made a comment that should warm the hearts (and wallets) of potential Priv buyers. In response to a question posed by RBC Capital Markets analyst Paul Treiber about the pricing and margins expected from the Priv during its life cycle, Chen gave a response that clearly indicated that a price cut for the company's Android slider is on the way. In fact, the CEO even gave us a good idea when to expect BlackBerry to take a whack at the device's price tag.
According to Chen's response, we can expect the Priv to be cut in price around the time of the MWC show in Barcelona. The expo will be held from February 22nd to the 25th. Chen noted that some competitors will be introducing new handsets around the show. He did hint that BlackBerry might be unveiling a "mid-life kicker" that will be introduced for the Priv at that time, but still seemed to be resigned to the fact that a price cut would be necessary around MWC.
One of the phones that we expect to see unveiled around this time is the
Samsung Galaxy S7
.
Samsung is holding an Unpacked event on February 21st
, the day before MWC opens, and the company's new flagship will most likely be introduced at that time.
"Good question. So we have a model obviously, of pricing. I think the pricing will hold pretty strong for the next quarter in Q4. We already have seen some of the POs coming in. Especially in new introductions, margin is usually pretty strong. But I'm not -- but you all know the market very well.

In about Mobile World Congress time, we will see introduction of new technology from our competitors. We have maybe a midlife kicker coming in around that time, but I expect ourselves to have to reduce our price to be competitive.

We do have some unique features at PRIV, as being well-received especially in the security world, in the privacy world. But we obviously won't fool ourselves to expect that they will continue to maintain the high prices that we could get today."-John Chen, CEO, BlackBerry
If the high price of the BlackBerry Priv is stopping you from purchasing the handset, be patient. It does appear that a price cut will be taking place in a couple of months.
Thanks for the tip!
source:
SeekingAlpha