Jimmy Kimmel tricks Apple fans who think they are looking at the new iPhone SE
72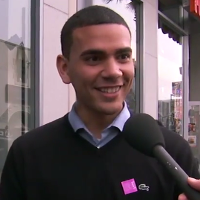 We've seen Jimmy Kimmel trick random strangers on the street
by telling them that a $20 Casio timepiece was the Apple Watch
. On the heels of
yesterday's introduction
of the
Apple iPhone SE
, Kimmel and his crew decided to find out if consumers could tell the difference between the two 4-inch models. With two phones in hand, a film crew roamed the streets and asked a few people if they could compare the Apple
iPhone SE
with the
Apple iPhone 5s
.
That seems straightforward enough except for one important piece of information. Both phones happen to be the Apple iPhone 5s. The first person interviewed holds the iPhone 5s in his hands and receives the second one with the other hand. Believing it to be the new iPhone SE, he gives it a big smile. "Nice," he says, and then points out that it is a little heavier than the iPhone 5s.
Another person says that the new model seems smaller. Others point out the "clearer" and sharper screen. One confused woman was trying to say that the battery life was improved. How she could tell that from holding the phone for a few seconds is beyond us. And of course, both phones are exactly the same anyway. One guy even takes note of the new buttons (!) on the iPhone SE.
Once again, Jimmy Kimmel and crew give us a hilarious look at how consumers have become blinded by the Apple name, throwing away any common sense that they might have had.
source:
JimmyKimmel
via
BGR