JetBlue first U.S. airline to support Apple Pay for in-flight payments
10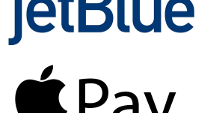 Apple Pay has proven to be very popular on terra firma, so why couldn't it be a success in the sky? JetBlue announced today that it will be the first U.S. airline to accept the mobile payment system for in-flight purchases of "premium offerings." The airline notes that most passengers have their handset nearby when buying a snack or an amenity.
JetBlue notes that it offers passengers "EatUp snack boxes and à la carte food options from the EatUp Café, premium beverages, onboard amenities and Even More Space seating." With the
Apple iPhone 6
,
Apple iPhone 6 Plus
and soon the Apple Watch, those using Apple Pay can quickly pay for these items.
To help the flight crew accept Apple Pay, 3500 of them will be given an Apple iPad mini with special NFC-enabled cases. Each iPad mini will have a special app called
The Inflight Service Assistant
pre-installed. The app will give the crew members on each flight access to the passenger manifest and flight data. It also will identify loyalty club members. Using the app, the flight crew can easily identify passengers belonging to either the
TrueBlue
and
Mosaic
clubs and wish them a Happy Birthday, for example. JetBlue pilots already use iPads to receive weather information in real-time and to hold flight and safety documents.
"JetBlue has always stood out because our crewmembers care about our customers. By giving crewmembers thoughtful ways to use technology, we can support an even more personalized onboard experience with a perfect partnership of high tech and high touch." -Joanna Geraghty, executive vice president, customer experience, JetBlue

"The sky is definitely not the limit when it comes to mobile payments with Apple Pay. Customers want an easy and fast transaction when they decide to make an on-board purchase so that they can get back to enjoying their flight."-Marty St George, senior vice president, commercial, JetBlue
source:
JetBlue
via
Phonescoop