Jawbone ERA is the world's first Bluetooth headset to pack a built-in accelerometer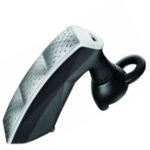 In the world of Bluetooth headsets, it's very hard to find something that blatantly sticks out above the others to warrant it as an innovative piece of technology. At this point, we're fairly certain that items like noise cancellation and voice commands should be the minimum set of features expected out of Bluetooth headsets. But if you happen to be Aliph, the creator of the stylish Jawbone branded Bluetooth headsets, you're constantly trying to be original in attempting to keep things fresh.
The
Jawbone ERA
is the latest from Aliph and sports the unique inclusion of an
accelerometer
on top of the other new fancy features like its
"multi-processor architecture
" and "
Motion-X
" technology. Specifically, the accelerometer is used for a wide array of functionality – like double tap ("taptap") anywhere on the headset to pick up/end a call and "shakeshake" it to place it into pairing mode. Although it may sound like novel features, it's still in the early stages and Aliph expects it to be refined further down the road for additional functionality.
Pricing is set for $129.99 and will be available in four colors starting January 23rd through a handful of retail partners like Apple and Best Buy.
via
MobileCrunch