It's not certain that double-height Live tiles will make it to Windows 10 for phones, Microsoft bigwig says
6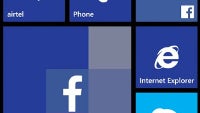 The Technical Preview of Windows 10 for phones is already out for some users, showcasing the majority of features that might make it to the official release of the OS later on. As Windows fans probably know, among the numerous novelties of the upcoming platform are the double-height Live tiles, which are also a part of the Technical Preview.
Unfortunately, it's not completely sure that these will arrive alongside the full-fledged Windows 10 for phones later this year. A Microsoft exec, namely Gabriel Aul, the manager behind Windows Insiders program, revealed in a recent tweet that said that the new types of Live tiles are still being tested and might or might not make it to the full-fledged release.
@imlochab@BrokeHobo We're still experimenting with tile options. Even the double tall isn't for sure. You'll see more and can give feedback

— Gabriel Aul (@GabeAul) February 17, 2015


Of course, we are hoping that this customization option will be among the final changelog of Windows 10 for phones.