Italy enjoys its early Android 2.3 Gingerbread update for the HTC Incredible S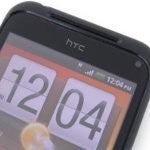 Needless to say that it's still easily regarded as being a rarity right now, but there's plenty of buzz from HTC Incredible S owners in Italy because it seems that they're in for some Gingerbread surprise this week.
Specifically, an update for Gingerbread is going to be pushed out to
Italian owners
of the smartphone this week via an over-the-air process. Bringing the handset to
Android 2.3.3
, this is surely a welcoming surprise seeing that HTC pledged to get the handset to
Gingerbread by the end of Q2 2011
. Furthermore, we can also assume that a global rollout could potentially be on its way – and taking into account how it's rolling out in Italy this week, it's uplifting to say the least to see HTC expediting the entire process.
In the greater scheme of things, the HTC Incredible S will indeed make itself presentable even more just because it's still one of the few devices on the market that's basically running Gingerbread.
via
Electronista