Is the iPhone 4 launch being delayed for Canada?
This article contains unofficial information.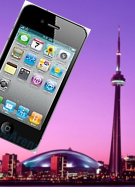 Even though some could've been content with the "Coming in July" stamped onto the iPhone 4's launch in Canada, the vague date still gave hope to Canadians all around that the month of July would claim to be a joyful one. Unfortunately, an even more vague date has appeared and takes place of the original one as it now stands that the iPhone 4 will be just "coming soon." One would quickly have to imagine the huge draw that Apple probably received as pre-orders went live and most likely exceeded their expectations. The worse case scenario for our friends to the north is for the iPhone 4 launch day to be moved further pass July – which could easily upset a decent amount of people. Not only was Canada not excluded from the June 24th launch list, but now it looks like it's even going to get bumped off the list where it shared a launch time frame some time in July with 17 other countries. Naturally one would have to question if Apple believes that a market like New Zealand would prove to be a bigger focus than something like Canada.
Apple iPhone 4 Specifications
source:
BGR
via
MobileSyrup