Intel CES 2012 keynote recap: Chipzilla steps into the mobile ring
3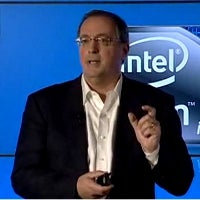 CEO Paul Otellini took the stage for a keynote today at the CES 2012 expo, and announced that Intel is entering the mobile games with performance-oriented but efficient processors, like the 32nm Medfield with Atom CPU that is available now for anyone willing to make an Android device with it.
The CEO confirmed once again that Intel is marching towards a 14nm process, which will have 200 million transistors on the space the size of a pinhead. No foundry has announced such plans yet, so further down the road Intel might have competitive advantage for its mobile chipsets.
First in line of Intel-powered Android gear will be the
Lenovo K800 phone
with Atom, 4.5" 720p screen with
Intel Wireless Display inside
to stream HD video to your big screen TV. The phone will be available on China Unicom in Q2 of this year. Lenovo also mentioned their
thin
Intel-based 10" tablet with Android ICS
, presumably also coming to China first.
Intel also announced the
Android reference design phone
, offering 8 hours of talk time and an 8MP camera, capable of 1080p video capture, and capturing 10 pictures for under a second. At less than 10mm thick, it has HDMI port, NFC and a full suite of sensors for gaming - this is meant for developers to get acquainted with Intel's chipset. Paul Otellini touted that the reference design phone has very powerful graphics, which have best-in-class performance/power consumption ratio.
Afterwards Motorola's CEO Sanjay Jha took the stage to announce a
multi-year, multi-device partnership with Intel
. Validation devices will be ready in the summer, with smartphones and tablets hitting the shelves later in the year. Of course, with Motorola all but acquired by Google, we can be confident now that Intel won't play second fiddle when it comes to the latest versions of Android.
Windows 8 also wasn't spared, with Intel boasting once again that only tablets with its chips will be
backwards compatible
with the more than 4 million programs that are available for Windows, unlike ARM-based Win8 slates, for which Microsoft and developers will have to start from scratch.
These include things like flipping the screen almost 360 degrees, using the keyboard as base, or just sliding the screen up from a tablet mode. Pretty interesting concepts, which are sure to eat from the tablet market, depending on price, of course.