Instagram enables augmented reality shopping through its mobile app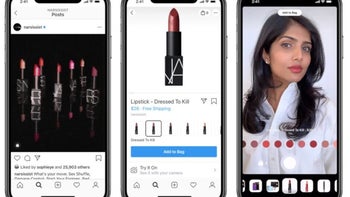 Instagram continues to add new tools to its app to enable users to interact in different ways with the content it provides. The latest updated tackles augmented reality, a technology that many other companies have already implemented in their products.
Starting today, several brands that are using Instagram to sell their products will now be able to add a new augmented reality feature that lets customers try their products before they buy it,
Mashable
reports.
The new feature is meant to help Instagram users to preview certain products they plan to buy and see what they look like on their face. To try out these new AR-compatible products, Instagram users must first find these specific products that brands are tagging in a post. Then, simply choose the option to try out the product using an augmented reality filter before adding it to the cart.
But the new feature is not only meant to shop easier, as Instagram users can share these
AR experiences
in Stories, which will also link to the original product so that other users can try it out and, eventually, buy it.