Information on upcoming T-Mobile phones
This article contains unofficial information.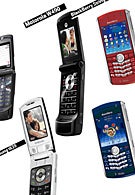 In addition to the
BlackBerry 8320 Curve
details,
BoyGenius
also got information on a few other phones that T-Mobile will offer in the future.
Motorola will keep its strong position, offering two new clamshells. The
W490
will most probably be a stylish budget phone, reminding of the KRZR but stripping most of its features off, removing the camera (and the Bluetooth?).
The other Moto is called the
RAZR V3 06
which the BoyGenius Team wishes to be the RAZR2 V8, which is the logical model of the second-generation RAZR family, as the V9 is 3G capable but not with the bands of T-Mobile (850/1900 instead of 1700 MHz). The image posted shows a standard old V3i (or variant) but we hope this will change and T-Mobile will offer up to date phone, like
the other carriers launching the RAZR2s.
Talking about
3G, Samsung
will offer the first such phone for T-Mobile.
We've already told you
about it, the SGH-T639 which will be very similar to Alltel's R500 – a mid level clamshell.
BlackBerry
will refresh its models with 3 new color flavors of the Pearl, instead of launching the rumors Pearl 2. The new colors will include variants of Red, Blue and Gold.
According to the leaked information, the Pearls will be available first on September the 4th, followed by T639 on 10th, and the W490 on 24th. The V3 06 is scheduled for the next month, but exact date is not given.
source:
BoyGeniusReport