AT&T, Verizon and Sprint announce the Motorola RAZR2 V9 and V9m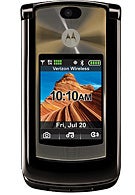 Verizon Wireless
today announced that the highly anticipated Motorola Razr2 V9m will be available for purchase in September. There was no exact date given, but pricing is set at $299, after a $50 Mail-in-Rebate with a 2-year Contract. This would position the V9m at $100 more than the current price of the Razr Maxx Ve, and the same price as the Samsung A990. New Every 2 customers will be able to purchase the V9m for $199 after the rebate.
The V9m is the only CDMA version of the new Razr2 line, with the V8 and V9 being GSM only. Last month, the V9m Interactive Manual made a
short appearance on the Verizon web s
ite, but was removed after a few days.
The V9m will be the thinnest Razr to date for Verizon (11.9mm), and will feature a large 2" 65K Color Touch-Sensitive QVGA External Display, 2MP Camera, Speakerphone, Bluetooth, USB 2.0 port, and updated software.
Sources have said that September appears to be the full retail launch of the Razr2 series across all providers.This seems to confirm that Motorola is going to have a National Razr2 Launch, where all the models are released at the same time.
*Update:
Today,
Sprint
has also announced that they will be offering the V9m beginning August 22 for On-Line Orders, and September 4 for
in-store purchases. In contrast with the Verizon's V9m, the one for Sprint will feature 262k internal display.
Initial pricing has been set at $249 with a 2-year contract (no rebate available).
Sprint will sell the V9m for $249, while Verizon's one will come at $50 more - $299.
*Update:
AT&T
is also jumping on the RAZR2 bandwagon by also announcing their V9 model.
The V9 is also due out in September with a price of $299.