Indian smartphone shipments rose 21.4% during the third quarter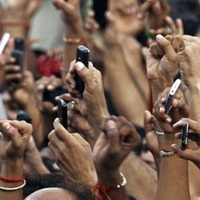 India remains a hot market for smartphone manufacturers, according to the last data from IDC. Shipments of intelligent handsets in the country rose 21.4% year-over-year during the third quarter. 28.3 million units shipped from July through September this year, up from the 23.3 million that was delivered during the same time period last year.
While shipments of 4G phones in India tripled during the third quarter year-over-year, Samsung became the leading manufacturer of 4G handsets in the country replacing Lenovo. Samsung also is the largest smartphone manufacturer in the country overall, partly due to the sequential 13.1% growth rate it had in the third quarter. India's own Micromax, the company behind the successful YU smartphone brand, was next after scoring a 6.4% gain in shipments from the second quarter.
Intex used its production of entry-level handsets priced under $50, to take third place in the Indian market. The company grew its shipments by 9.4% sequentially from July though September. Lenovo moved up to fourth place after growing its shipments 9.4% sequentially in Q3, which dropped Lava down to fifth place. The latter saw its sales decline a sharp 24.9% from the second quarter to the third quarter of this year.
source:
Digitimes