In less than 2 months, Apple donates $2.6 million to charities through Matching Gifts Program
52
Not long after being appointed CEO of Apple, Tim Cook initiated the
"Apple Matching Gifts Program"
, through which each dollar that any of the company's full-time employees donated to a non-profit organization was to be matched by Apple. Well, seven weeks have passed since then, and the results from the campaign have reportedly started hitting the inboxes of Apple employees.
More than $1.3 million have been matched by Apple so far
, which when added to the $1.3 million that company personnel has spared brings the total amount of donated funds to
$2.6 million
. This surely is an impressive figure considering that the program has been running for less than two months.
At this time, only U.S. Apple employees can participate in the program, but the company is said to be looking into expanding the initiative's scope to divisions in other countries. Interestingly,
former CEO Steve Jobs was never a big fan of such campaigns
during his time leading the company and referred to them as
"giving money away"
.
So, do you think that the generous amount that the company has donated so far is even close to compensating for
the true cost of Apple's products
? Do not hesitate to share your opinion in the comments section below.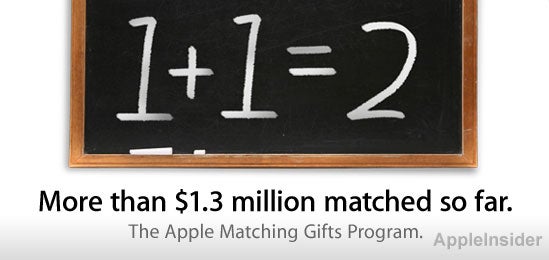 Apple has donated a total of over $2.6 million so far since the Matching Gifts program kicked off