Apple after Jobs - more relaxed and charitable atmosphere
95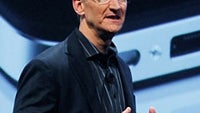 WSJ has probed the culture changes in Apple after the passing away of Steve Jobs, and found it to be more relaxed, but still pretty much the same company.
New CEO Tim Cook
seems to be more of a group player, sending company-wide emails to the "Team", something that Steve Jobs very rarely did. He is also more involved in administrative work and red tape like promotion paths - things that Apple's co-founder was apparently uninterested in.
The atmosphere at Apple has reportedly also become a bit more relaxed, and employees have been informed that the company
will match their donations to charitable organizations up to $10 000 a head
. This is something Steve Jobs referred to as "giving money away" and he had been opposing during his years at the helm.
Other than that, however, the organizational structure has remained the same, and CEO Tim Cook is reportedly intent to focus on what he does best - running Apple's state-of-the-art logistics chain and mediating the team, leaving product development to brilliant guys like
Jony Ive
or Scott Forstall, while at the same time trying to learn from them and keeping Apple's culture of product pipeline secrecy.