Images show a Samsung Galaxy W dressed in a white paint job
6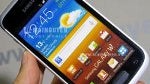 Just last week, we were introduced to a
slew of new devices from Samsung
that encompasses a wide range of categories – while getting to know their new naming system as well. One of the devices made known, the
Samsung Galaxy W
, was seen sporting the traditional black/dark paint job we're all so accustomed to seeing. However, it looks as though it's going to be supplemented by another new color scheme.
From the looks of two new leaked images, the Samsung Galaxy W, is going to be flaunting a
white paint job
as well, which isn't anything new in this day in age, but nevertheless an appealing new color scheme. As we known, the Galaxy W is classified as a "high quality, strategic models, perfect for those seeking a balance between style and performance." And without a doubt, the new white paint job should perfectly embody those aspects.
So far, it's not officially known which carriers will offer the handset in white, but seeing that IFA is right around the corner, we should know more information about its whereabouts sometime then.
via
Unwired View