Samsung outing Galaxy W, M Pro, Y, Y Pro in its new naming scheme for an Android assault on emerging markets
3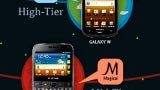 Just days after we learned about
Samsung's alleged new naming scheme for its smartphones
, and the company hinted at four new smartphones titles accordingly, which are about to be unveiled at the IFA 2011 Expo in Berlin next week.
The new title nomenclature is listed in the infographic on the right, and Samsung explains it as follows:
"S" (Super Smart)

– Devices at the very pinnacle of Samsung's mobile portfolio. This class will only be used on flagship devices such as the multi-award winning Samsung Galaxy S "R" (Royal / Refined) – Premium category models, a combination of power, performance and productivity.

"W" (Wonder)

– High quality, strategic models, striking a balance between style and performance

"M" (Magical)

– High-performance models at an economic price-point

"Y" (Young)

– These are entry models or strategic models for emerging markets or a younger audience more sensitive to price.
Class indicators allow a more specific description of the key selling points of a device:
"Pro"

– This indicates that the device includes a QWERTY keyboard for speedier email typing and increased productivity for professionals.

"Plus"

– This indicates that the device is an upgrade from an existing model.

"LTE"

– This indicates that the device is designed to utilize LTE (Long-Term Evolution) connectivity standards, a 4G standard to provide increased mobile network capacity and speed.


The handsets are evidently supposed to battle
the cheaper iPhone 4, about which we wrote yesterday
, and will represent Samsung's Android onslaught in emerging markets, selling for around $200 or less without a contract, and all running Gingerbread.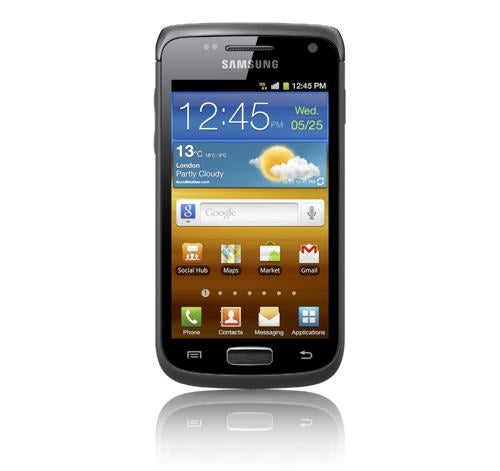 Samsung Galaxy W
Samsung Galaxy W
is the leader of the bunch here, with its single-core 1.4GHz processor, 3.7" 480x800 pixels LCD display, 5MP camera, 14.4Mbps HSDPA, Bluetooth, Wi-Fi and a 1500mAh battery. As usual we will have TouchWiz all over it with Samsung's multimedia and social Hubs as well as Kies Air for wireless syncing.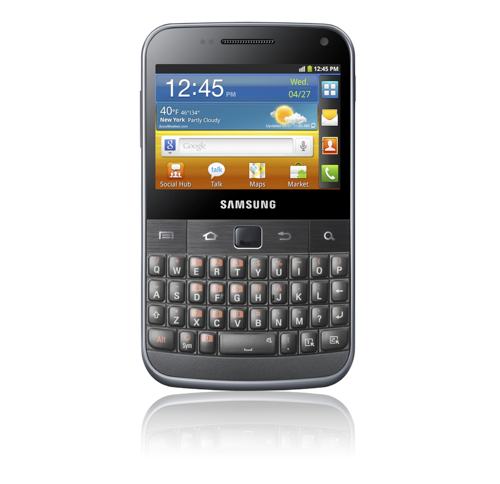 Samsung Galaxy M Pro
Next in line is the
Samsung Galaxy M Pro
, with the "Pro" part now indicating a physical keyboard, which in this case is a portrait QWERTY one. The Galaxy M Pro will sport a 2.66" 320x480 pixels LCD screen, 1GHz processor, 5MP camera plus a front-facing one, 7.2Mbps HSDPA, Bluetooth 3.0, and Wi-Fi as connectivity options. The Samsung Galaxy M Pro comes very slim at 0.53" (9.97mm), packs a 1350mAh battery, and will feature some enterprise-oriented services like Cisco Mobile, Webex, and Sybase Afaria.
Last but not least come the two entry-level warriors,
Samsung Galaxy Y
and
Samsung Galaxy Y Pro
. "Y" in the new naming scheme means the phones will be targeted to the younger crowd at rock-bottom prices, and the specs of the Samsung Galaxy Y certainly confirm that. It sports a 3" 240x320 pixels LCD display, 832MHz CPU, 2MP camera, 7.2Mbps HSDPA, Bluetooth 3.0 plus Wi-Fi, and a meager 1200mAh battery. The specs on theSamsung Galaxy Y Pro weren't specified but it is most likely just a keyboarded version of the Galaxy Y above.
All four handsets should be showcased at the IFA 2011 next week, probably at
Samsung's Unpacked event on September 1
, but what we are really hoping to see there are those
sweet Super AMOLED HD handsets and tablets
. Not that the Galaxy W, M Pro, Y and Y Pro are not important for
Samsung's strategy towards world smartphone domination
, but the are just not as exciting.
A Samsung Mobile executive has told his peers yesterday that "
Samsung seeks to expand market share in the emerging market with models costing around $200, as those markets have lower smartphone penetration rates compared with advanced markets
".
Apple and Samsung overtook Nokia
for the first time as the world's largest and second largest smartphone makers last quarter, and the Koreans are obviously aiming for the top spot here.
source: Samsung