Images and summary from day 2 of Google I/O
3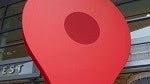 It was a day packed with information sessions and sandbox exhibits for the developer community attending Google I/O 2013.
We sat down with some Google team members and developers that are working an area of Android that is making some major strides forward with accessibility for people contending with low-vision eyesight or blindness altogether.
That story will be making its way up later today as will be a follow-up to the new Google Maps and all its upcoming features, plus we will be bringing more developer perspective from the conference. Naturally we will have more general pictures of everything going on at Google I/O 2013 in San Francisco.
Google employees are everywhere talking with developers and they are being quite helpful to the bloggers and media that are on site as well. Everything has gone off without a hitch with exception to the internet connectivity. The Wi-Fi networks are simply getting crushed and based on the personnel roaming the halls scanning the spectrum in every corner, there is just not enough radio spectrum to accommodate everyone.
During the keynote, that issue affected a couple of the demonstrations, so no one has been immune. Thankfully we can plug in to an Ethernet jack to make things happen. While we explore the world of Google as seen through the eyes of a developer on the third and final day of the conference, enjoy these images from day two and keep checking back with us for more news and cool stuff coming from Google I/O!