Humble Mobile Bundle 3 brings Ridiculous Fishing to Android, allows you to buy 6 top games for a fraction of their cost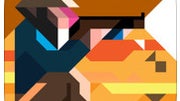 The new Humble Mobile Bundle has arrived and it's the third edition dedicated exclusively to Android and bringing you six of the top rated games for a fraction of their original cost. The Humble Bundle is a charitable idea - buy a six-pack of the hottest games for a fraction of their original cost and help support charity with the proceedings (you can pay more if you want more money to go to charity).
This time around all six games are destined to Android and two of them make their exclusive debut on the platform. By purchasing these games you also support the Electronic Frontier Foundation and Child's Play Charity.
You can pay as much as you think fair, but the average for the six-game Humble Bundle 3 pack is $4.97 and paying more than that will unlock you two more games next week. In addition, you also get the full soundtracks for four of the games in both FLAC and MP3 formats.
To actually install the games, you'd first need to get the Humble Bundle Android apk file and install the application (it's in beta). Then, you open it and sign in with your Humble Bundle account that you should have and all six games will then appear packaged and ready for download.
So what are the actual games? They cover everything from strategy and action to vocabulary games and casual puzzlers. Take a look at the 6 games available in Humble Mobile Bundle 3 right below.
source:
Humble Bundle