Huawei is altering some promo images of its P8 smartphone to make it look near bezel-less
17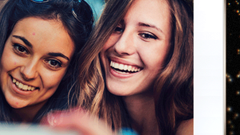 Released in April by Huawei, the
P8
is a pretty good Android smartphone, as
our review of it
is concluding. But Huawei is trying to advertise the P8 as something that it's not, namely a near bezel-less phone. We noticed this as Huawei today posted a promo image (on Facebook) showing a P8 that doesn't look like the real phone.
Check out the first image in the slideshow below: it's showing a white Huawei P8, and you can't help noticing how thin, almost non-existent, its side bezels are. However, this image is misleading, just like plenty of others that Huawei is presenting on its official website (see the 3rd and 5th images in the slideshow).
In reality, the bezels of the P8 are clearly not that thin, and you can see this for yourself by comparing Huawei's promo images with our hands-on photos of a white P8. The altered promo images don't show the black area that sits between the display of the phone and its edges, thus making the device appear more attractive than it actually is. Of course, renders don't usually look
exactly
like real devices, but what Huawei is doing is simply misleading.
sources:
Huawei
(Facebook),
Huawei
(P8 product page)