Huawei MateBook hands-on: A Windows 10 productivity machine
5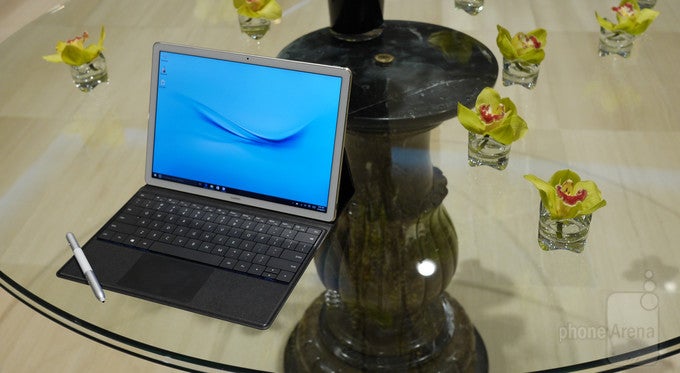 Is it a laptop or is it a tablet? Well, it largely depends on what you're in the mood for. Meet the newly announced Huawei MateBook – a 2-in-1 hybrid device built with business users in mind. It aims to blend the portability of a laptop with the productivity capabilities of a Windows 10 machine. And while it isn't shaping up as a replacement for a Surface Pro 4, it does come with a few noteworthy tricks up its sleeve.
Holding the Huawei MateBook for the first time, we were more than content with its design. The device is slim and light for its class, but feels well-built and sturdy. Bonus points go for the metal-made frame and back, which give the slate a nice, premium feel in the hand. One clever addition is the 360-degree fingerprint reader, situated discretely between the volume buttons. There's no Windows Hello support, however.
On the front, 84% of the area is taken up by a 12-inch, LCD display with sufficiently high resolution – 2160x1440 pixels (216 ppi). The bezels are slim indeed, but also wide enough to allow one to get a decent grip without their thumb being registered by the touchscreen. As for the screen panel itself, it looks detailed and pleasing to the naked eye, with wide viewing angles and adequate brightness. We did notice one flaw, however, namely the display's blueish tone.
As the Huawei MateBook is built to be a productivity tool, it comes bundled with a keyboard cover, which we have mixed feelings about. On one hand, we're content with the
"environmentally friendly"
leather finish and we're glad to see that the keys are backlit. But on the other hand, the slate and dock didn't always snap properly in place when we tried to attach them together. Also, we wish the keys were less wobbly and better spaced out.
The Mate Pen is another accessory built especially for the Huawei MateBook, although we can't promise that it will come in the box with the slate. In any case, think of it as an active, pressure-sensitive stylus with a few neat additions. What's really clever is that buttons on the Pen let you navigate through a presentation, and a built-in laser pointer lets you point at things in your slide. Or simply have some fun with your pet. It is your call.
If you're curious to know what hardware ticks under the Huawei MateBook's hood, there's an Intel Core M processor running the show. It is paired with either 4 or 8 GB of LPDDR3 RAM, and a 128/256/512GB SSD stores your data.
The battery inside it has a capacity fo 33.7Wh and should be good for about 9 hours of use. Using the stock charger, you can get the battery from zero to full in 2.5 hours or do a quick charge to 60% in 60 minutes. Charging is done through the single USB Type-C connector, to which you can also attach an expansion dock granting you HDMI and VGA outputs, as well as two full-sized USB 3.0 Type-A connectors and an Ethernet port.
To wrap it all up, the Huawei MateBook isn't exactly a replacement for a Surface Pro 4. It doesn't have the gorgeous screen and the tons of processing power a fully-loaded Surface tablet can deliver. On the other hand, the MateBook is slim, light, good-looking, and the bundled keyboard dock is more than welcome. All in all, Huawei's 2-in-1 hybrid could prove a worthy investment if priced accordingly. Alas, pricing details are something we can't share with you yet. Expect seeing the Huawei MateBook on shelves in Europe and the U.S. soon.
Update: The Huawei MateBook will start at $699 in the US (799 euro in Europe), and a fully loaded model will be priced at $1599 (1799 euro in Europe).