Huawei Honor 2: 4.5" HD screen, quad-core CPU and ICS for $300
16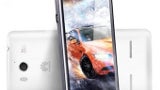 The original
Huawei Honor
, which came out at the end of last year, didn't make much of a splash, but that obviously can't stop the Chinese giant from going for it once again. Huawei has just announced the Honor 2, which actually shapes up as a pretty capable smartphone for the price asked by the manufacturer.
Now, Huawei is yet to announce when/if the Honor 2 will be coming to international markets, so it should be regarded as a handset for the Chinese market (comes out in early November), at least for now. But we can't hide the fact that we're excited about it because of its announced price of 1,888 yuan, which equals about $300. This is actually a spectacular price for what the Honor 2 offers, and that includes a large 4.5" LCD IPS screen with HD resolution, 1 GB or 2 GB of RAM, Huawei's own K3V2 quad-core 1.4 GHz processor, 8 GB of storage, 8MP camera and Android 4.0 Ice Cream Sandwich. Sound like a pretty good package, eh? And even if the pre-loaded software UI doesn't really appeal to you, you can always install whatever launcher you want and be done with it.
So, the only thing left to see is if and when Huawei will decide to bring the Honor 2 to the global market. Of course, we don't believe that the phone's off-contract price will be $300 globally, but there's some pretty good reason to believe that it'll be more affordable than most of the competition in this specification class.
How likely are you to purchase an affordable but powerful smartphone, if you know that it's made by Huawei?
via:
AndroidAuthority