Huawei Discovery Expedition hands-on
1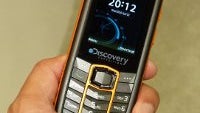 Old school style candybar phones have it rough in our society nowadays, especially when they're considered to be dinosaurs by today's standards, yet, some are able to evolve just a little bit thanks to their enhanced specialty.
Fortunately, the
Huawei Discovery Expedition
is able to go beyond being a simple candybar phone – that's because it packs one tough exterior that will absorb the bumps and bruise dished onto it by users. Without question, its
tough and rugged build
enables it to handle even some strenuous accidents – such as being dropped from a height of 4 feet onto the hard floor. Additionally, the very narrow looking handset doesn't seem to weigh down our hands as we're holding onto it very dearly.
On top of being one tough handset, it's also worth noting that the Huawei Discovery Expedition is
water-resistant
, and to show its ability to repel cool liquids, the handset was fully submerged under some water for an extensive time. Naturally, we're amazed to find the handset still working properly while under water.
Needless to say, it you happen to be the outdoors type or a survivalist, the Huawei Discovery Expedition might be one useful tool in helping you in your excursions. And oh yeah, the handset is actually the result between the partnership between Huawei and Discovery Communications. Currently, there's no word on an exact release date for this rugged handset, nor is there any mention about its price right now. However, it's expected to become available
by the end of the year
.