Huawei Band 2 and Band 2 Pro unveiled with heartbeat tracking and oxygen measuring
2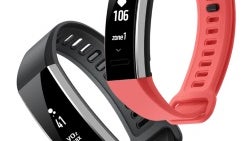 Huawei announced two new fitness trackers, the Huawei Band 2 and Band 2 Pro. At a glance, both are standard fare FitBit competitors with the abilities to measure heartbeat, pace, distance, speed, and direction.
A big new addition is VO2 Max measuring. This lets the wearables examine the maximum rate at which their wearers' bodies can import oxygen, transfer it to muscles, and use it as a source of energy. Reportedly, the technology allows for VO2 measurements with an accuracy as high as nearly 95%.
Features exclusive to the Pro variant are Huawei's TruSleep virtual sleep hygiene and breathing tracker; an on-board GPS sensor, and Huawei's Running Coach. Heart rate monitoring is continuous, on an all-day basis for both devices, so you can gain an objective understanding of how different activities and life's moments affect your heart rate.
Both Huawei bands also introduce the Training Effect feature, which gauges how an exercise session impacts your fitness level, and estimates the recovery time needed before your next gym session. The wearables can withstand up to 5 atmospheres of water pressure, which is enough to let you shower, hit the pool, or carry out a rainy day jog while having them on.
When paired to a smartphone, both the Huawei Band 2 and Band 2 Pro act as companion devices that transmit alarms, notifications, and messages from the handset.
Unfortunately, the price and release date for the bands have not been revealed.
ALSO READ