Huawei Ascend Q for Cricket is a cheapo QWERTY Android smartphone
2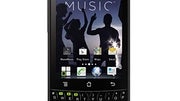 The
Huawei Ascend Q
,
photos of which we first saw back in June
, is now available at Cricket wireless for all of you bargain hunters out there. Bargain hunters who are into texting and social networking, that is, given that this modest Android smartphone flaunts a portait-style QWERTY keyboard. Do we have your attention already? Then here is what you also need to know: getting a Huawei Ascend Q will set you back $140 (
UPDATE:
$120 if purchased online), which isn't all that bad considering that a long-term commitment is not required and that the carrier's top-tier smartphone plan costs $65 per month.
On the downside, you don't get all that much under the hood. There is an 800MHz chip ticking inside the Huawei Ascend Q, and the 3.2-megapixel main camera lacks auto-focus. The touchscreen display is only 3.2 inches in diagonal, and the aging Android 2.3 is what comes pre-installed. There is also a 4GB microSD card thrown in the set for all your storage needs.
Overall, the Huawei Ascend Q is but an entry-level handset specs-wise, but with a price tag like that, it might attract more than a few youngsters looking for a versatile, cheap Android device. Anyone thinking about giving this one a shot?
Recommended Stories