How to quickly launch the camera on the Google Nexus 6P and Nexus 5X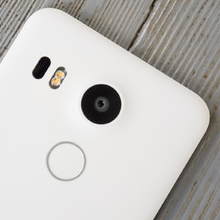 Apart from being able to take good photos (and video), Google's
Nexus 6P
and
Nexus 5X
also come with a new way to launch their cameras - a quick way, to be precise. Of course, quickly launching a camera isn't something that hasn't been done before (for instance, you can launch a Motorola Moto X camera with a double-twist gesture, while the camera of a Samsung Galaxy S6 can be rapidly fired up by double tapping the home button). But it's still nice to see that Google has taken the time to implement such a feature.
So, how exactly can you quickly launch the camera on the Nexus 6P or the Nexus 5X? Well, you just have to double press the power button, which is situated on the right side of both devices. For this to work, you need to make sure that the quick camera launch feature is enabled. It should be enabled by default when you're getting any of the two Nexus handsets out of the box, but, if the trick doesn't work, you may want to check its status. The feature can be turned on and off from Settings -> Display (where you'll find a "Press power button twice for camera" toggle).
Double pressing the power button starts the camera in any situation, even with the screen off and locked, just as long as your Nexus 6P or 5X is not powered off. Nifty, isn't it?