Google Nexus 5X Review
71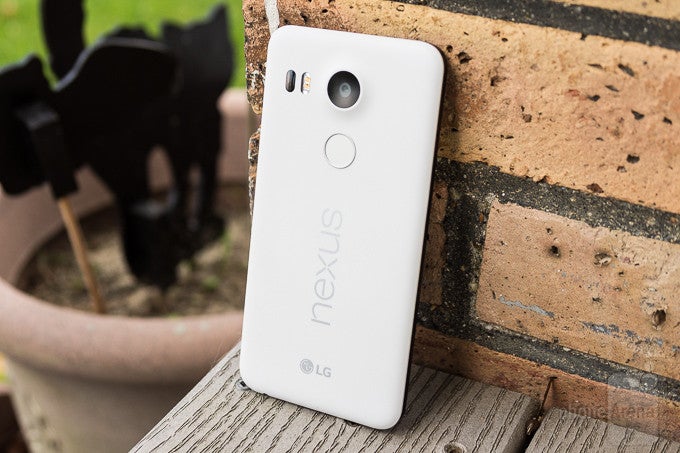 Introduction
The notion of what a 'cheap' phone is nowadays is a very different one from what we've encountered in the past. In this day and age, devices like the
Moto G (2015)
and
Alcatel Onetouch Idol 3 4.7-inch
have all redefined what it takes to be an affordable smartphone of above average quality. Quite simply, they don't have such an incredible specs sheet to captivate most folks from the iPhone or Galaxy league, but nonetheless, they offer a ton of value without too much compromise in design and performance.
Above that category, the industry has recently etched out a new segment that many refer to as 'low cost' premium smartphones – such as the
Moto X Pure Edition
,
OnePlus 2
,
ZTE Axon Pro
, and many more. Boasting prices less than $450 outright, they don't seem to skimp out anywhere with their flagship-esque specs sheets. However, we have another new entrant into this particular space, the
Google Nexus 5X
.Being one of two brand new Nexus smartphones this year, the LG-made Google Nexus 5X not only aims to attract people with its pure Android 6.0 Marshmallow experience, but it's also going to make many folks happy knowing that it's been slapped with a competitive $379 starting cost – priced similarly to what was established with the
Nexus 5
from a couple years ago. Price alone is a huge driving factor in making the 5X so compelling, but it needs so much more to captivate a wider audience, especially when we've been spoiled by so many great-performing, low-cost premium phones.
The package contains:
Google Nexus 5X
Wall charger
USB Type-C to USB Type-C cable
Quick start guide
Safety & warranty information
SIM removal tool
Design
The humble styling is evident again with this one.
Every phone has a certain threshold when it comes to design, which can be dictated by the price point it's attempting to meet. For the LG-made Google Nexus 5X, there are no surprises whatsoever to see that it has been designed with modesty in mind, much like the Nexus 5. Plastic, that's the only material found with its construction. It's not elegant, nor edgy either, but the two-toned color of our particular model meshes well – more so when it's the matte plastic variety, which does nicely to stay cleaner looking than glossy plastic.
Indeed, it is no-nonsense approach, evident in the way plastic is used in every facet of the phone's design – including the buttons around its edges. Unlike the majority of phones nowadays, the Nexus 5X opts to favor a more compact and slim design, ensuring that it's still largely comfortable to operate with a single hand thanks to its fitting size and 70.04% screen-to-body ratio. Therefore, there's no excessive stretching needed from our thumbs to reach all corners of the display. And of course, since it employs a plastic construction, it's pretty lightweight tipping the scales at only 136 grams.
Frankly, the design isn't anything worth writing home about. It's a simple plastic-bodied thing with edges that seamlessly curve around to meet uniformly with the rear casing. Some might say that its design is a bit on the boring and dull side, which is in contrast to the stylish and highly customizable design of the Moto X Pure Edition, but it's a pure design that matches what the phone is all about.
Looking around the phone, we're presented with very familiar ports and buttons – such as its power button and volume controls on the right edge, 3.5mm headset jack and microphone on the bottom, and SIM slot on the left. The speaker, though, has been positioned right below the display, providing for that ideal experience when it comes to watching videos because it projects audio toward us.
What's arguably different with this phone, however, is that it comes with a USB Type-C port. Love it or hate it, this new connection is eventually going to phase out the traditional micro-USB connection that has been widely used on many devices close to a good decade by now, seeing that it offers some additional conveniences. For example, USB Type-C cables are reversible, so it doesn't matter what side you're inserting the cable into the port. The only downside here is that you can't connect it to any USB port that isn't a Type-C one, like the ones on your computer, to charge or transfer data. To do that, you'll need to purchase the correct USB Type-C to USB Type-A cable.
Another important feature of the phone is situated on its back. No, it's not the camera that juts out a little, but rather, the fingerprint sensor beneath it that's adorned with a chrome outline. Humble might be the word that best associates with the Nexus 5X, so it's somewhat of a surprise to find one here with the Nexus 5X. Luckily, it works just like any of the handful of recent smartphones with finger print sensors – requiring only for us to gently place our finger over the sensor for it to recognize and unlock. Technically speaking, we don't need to press the power button first, seeing that we can quickly unlock the phone from a standby state with the screen off by just putting our finger over its scanner.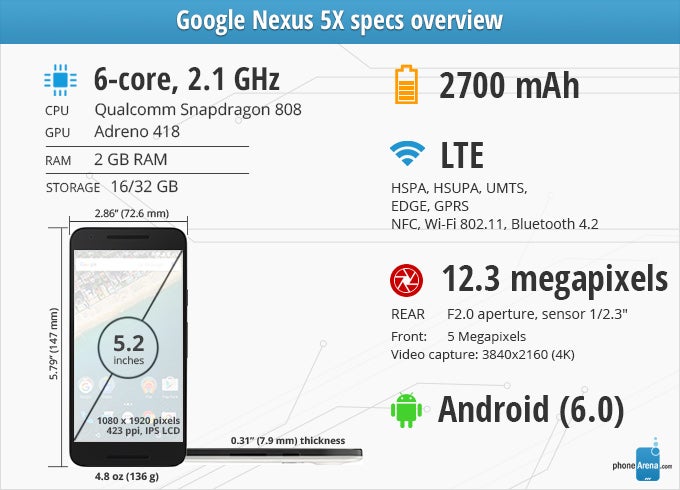 Display
Seriously, it's one very accurate screen that won't disappoint.
There might be a '5' in its name, but the Nexus 5X iss actually boasting a 5.2-inch 1080 x 1920 IPS-LCD display with Corning's Gorilla Glass 3 protecting it all. Although we've seen a handful of phones within its price point donning Quad-HD resolution, we're not too bummed out to realize it's 1080p resolution here with the Nexus 5X. In all fairness, it's more than detailed to give it a high level of sharpness to the eye – so it's not an issue whatsoever.
Cheap phones tend to employ low-quality displays, that's just the typical expectance. However, that's far from the truth here, as the Nexus 5X is fashioned with a pretty, color-accurate screen that boasts several top-notch qualities with its package. They include a 6800K color temperature, 2.31 gamma value, and a peak brightness output of 487 nits. All of this indicates that we're dealing with a fairly high-quality panel, ensuring it's visible even in challenging lighting conditions – and not being too cold in tone, so it's neither too warm nor cold.
Oh yeah, did we forget to mention that it gets really close to nailing all the reference points in the sRGB color gamut? Well, it does, and we couldn't be happier to find out that its color reproduction is nearly perfect. Looking very closely to its values, we can determine that it reproduces realistic, true-to-life colors. All told, this is one impeccable screen that doesn't skimp out on the necessary goods, and for its price point and all, it's pleasant to know that it's able to achieve the same stellar results as other phones priced well above it.
Display measurements and quality