How to get some fantastic Android L-inspired keyboard themes on the LG G3
6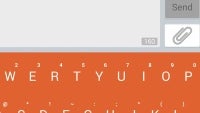 Fed up with the LG G3's limited choice of keyboard colors, which is distilled to the eternal dilemma of White and Black? Here's a magical solution that doesn't involve rooting, installing third-party keyboards, or anything else short of downloading and installing some .apk files.
Developer Ashrockr from the
XDA Developers Board
has put together a selection of Android L-inspired themes in bright colors that make for a more vibrant typing experience. If you enjoy using the stock LG Keyboard, these themes will be the icing on the cake.
Here's how to get them aboard your LG G3: