How to get Apple Arcade for free right now and how to cancel the free trial
2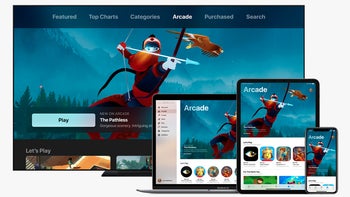 Surprise, surprise! It seems that Apple Arcade is already available to iOS 13 beta testers a whole three days earlier than initially expected. Apple's premium gaming service was set to launch on September 19, but if you've been using the iOS 13 beta, you might have already noticed that you can sign up for Apple Arcade.
Before we continue, a quick refresher on all things Apple Arcade. The first premium game service on mobile gives you access to a collection of brand new premium iOS games for an upfront monthly fee. Apple Arcade will arrive in 150 countries around the world on September 19. The price tag is $4.99 per month, with a free one-month trial to test out the waters.
Apple Arcade lives as a new, separate tab within the App Store, and consist of more than 100 expertly-curated games that will be exclusive to the Apple Arcade service. Once the service goes live, new games will be continuously added to the mix so as to scratch that gaming itch of yours. You will have to pay a monthly fee but will also be able to play any Apple Arcade game for as long as you want and on whatever Apple device you want, be it iPhone, iPad, Apple TV, or a Mac.
So, how to sign up for Apple Arcade right now?
#1. Make sure you have iOS 13
To put it bluntly, you need iOS 13 to partake in Apple Arcade right now. iOS 12 - no Apple Arcade, iOS 13 - Apple Arcade!
It doesn't really matter if you use the public or the developer beta of iOS 13 - both will do just fine. Enrolling in the public beta is easier and more advisable since it's generally a bit more stable and should technically feature less bugs than the developer channel.
iOS 13 is just two days away and we'd normally suggest you hold off for the official release, but if you really want to test out Apple Arcade, we advise enrolling into the public beta. It's pretty much issue-free as of this moment and is suited for daily-driver usage.
#2. How to sign up for Apple Arcade
If you're already running iOS 13, then you're good to go!
Open your App Store and see if you have the new fifth tab at the bottom bar. It should look like this:
If your Apple Store bottom bar looks like that, congratulations, you're just a step away from playing exclusive new games. Simply go into the tab and you should see the big Try if Free button in the middle.
Tapping that button will take you to one final explanation screen. If you insist on trying Apple Arcade for free, you will be brought to a final confirmation dialog that informs you on the details of your free trial and the monthly price tag after that.
Remember, Apple Arcade is free for a month, after that you'll have to pay $4.99 a month if you're loving the service.


#3. How to cancel the Apple Arcade free trial

Okay, in case you're not loving Apple Arcade, you can easily end your free trial. To do so, go to the Apple Arcade tab in the App Store, then head to your profile, go into subscriptions, and cancel the free trial.