House committees to grill CEOs Legere, Claure on T-Mobile-Sprint merger February 13th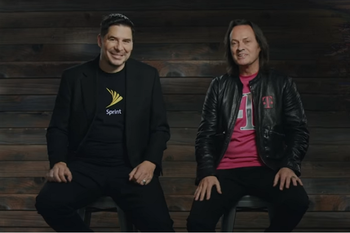 Announced last April,
the merger between T-Mobile and Sprint
awaits final approval from the FCC. Of course, the agency was recently part of the government that was shut down for 35 days. It still is unclear how the FCC will act, but T-Mobile expects to be able to close the transaction in the first half of this year.
The merger has already received approval from U.S. security agencies such as the Committee on Foreign Investment in the United States (CFIUS), the Justice Department, Department of Homeland Security and the Defense Department. To get this approval,
T-Mobile parent Deutsche Telekom had to agree to stop using Huawei networking equipment
. Sprint parent SoftBank agreed to replace 4G gear made by Huawei with equipment made by Nokia and Ericsson.
Back in June, the U.S. Senate held a hearing on the $26 billion deal, and
according to a press release dated today
, on February 13th the House Energy and Commerce Committee and the Judiciary Committee will hold a joint hearing. Attending will be the CEOs of both firms, T-Mobile's John Legere and Sprint's Marcelo Claure. The committees released a statement in which they said that the hearing would "examine the merger's potential impacts on consumers, workers and the wireless industry."
This will be the first time that the the Energy and Commerce Committee will be involved in a merger hearing in eight years. With the Democrats controlling the House, the announcement of the hearing was made by Frank Pallone, Jr. (D-NJ), Judiciary Chairman Jerrold Nadler (D-NY), Energy and Commerce Subcommittee on Communications and Technology Chairman Mike Doyle (D-PA) and Judiciary Subcommittee on Antitrust, Commercial and Administrative Law Chairman David N. Cicilline (D-RI).

"A merger between T-Mobile and Sprint would combine two of the four largest wireless carriers and the carriers with the largest numbers of low-income customers. As the Committees with oversight of the Federal Communications Commission and Department of Justice, we must hold this hearing to examine the effects on important issues like jobs, costs to consumers, innovation and competition. We look forward to examining this merger from the perspective of what is in the best interest of consumers and hardworking people."-Frank Pallone, Jr., Jerrold Nadler, Mike Doyle and David N. Cicilline
We should see Legere and Claure grilled on how the merger will impact low income subscribers and employees of the two wireless providers. Back in October, Legere told T-Mobile workers that
the deal will add 3,000 jobs immediately, rising to 11,000 by 2024
. However, the Communication Workers of America told the FCC that 28,000 jobs will be lost if the merger is approved, mostly from the closing of T-Mobile and Sprint stores that are too close to each other.