Here's how the Reachability feature on the iPhone 6 and iPhone 6 Plus works
20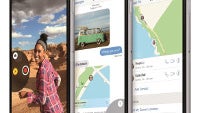 Back in the iPhone 5 era (and for a while after), Apple made its official stance on screen sizes known through
a TV ad
that essentially mocked competing devices' impractically-large screens. But as demand for the larger form-factor continued to soar, so did Apple's inclination fade away. And then, yesterday, the new iPhones happened.
As Apple events usually get extensive coverage, even with conventional media, we'll assume that most of you have already heard of the new iPhone 6 and the iPhone 6 Plus, and, more importantly for the topic at hand -- about their larger-than-ever screens. That's right, the smaller iPhone 6 has a screen diagonal of 4.7-inches, while the iPhone 6 Plus rightfully falls into the phablet category, with its 5.5-inches.
And guess what -- they both also come with a special "Reachability" mode that will allow you to use them with just one hand if you so wish. You can check out the way it works in the short Vine video below, courtesy of Danny Sullivan, but here's the gist: you basically only have to double tap on the home button whenever you want to activate the special mode, and you're done!