Here is how to get a blue, red, or pink iPhone 5
12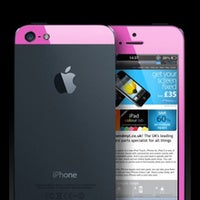 Since you are reading this article, you are probably kind of bored by iPhones coming in white or black only. Well, there are more than a few companies out there offering to give your smartphone a colorful makeover, and the UK-based
Mendmyi
is one of them. The folks made it clear that very soon, the
iPhone 5
will be added to the list of devices they can customize, and below you can see renders of what the handset would look like after being altered.
With Mendmyi, customers have 12 colors to choose from, including red, pink, yellow, and blue. Furthermore, the color of the home button might differ from that of the smartphone's body for an extra dose of personalization. And if that is not enough, custom logos can also be slapped on your iPhone, producing a truly one-of-a-kind device.
Pricing has not been revealed yet, but it is expected for an iPhone 5 paint job to cost about £96 ($155), since that is what Mendmyi charges for an iPhone 4S modification. If your budget cannot handle that, however, you can always consider getting an
iPhone 5 case
.