Here are some paid iOS apps that you can download free for a limited time
2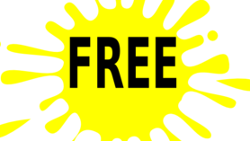 It's always fun to go through the list of free iOS apps that usually cost you some money. That is, if you own an iOS powered device. You never know when an app on the list happens to be one that you've been thinking of buying. To go through the list of these apps, all you need to do is click on the slideshow. There you will find the name of the app, a link to its App Store listing, and a brief description of the app.
There are quite a few goodies in the pile today, including Flight Tracker. This app allows you to track in real-time, all of the planes that are currently flying. You can follow your Mom's flight from Hoboken, New Jersey all the way down south to Fort Lauderdale. And one mode lets you pretend to be a pilot giving you a view from the cockpit. Week Calendar is anything but, with many features and capabilities. And if you're a Lyft or Uber user, Fair Ride+ allows you to compare fares from both ride sharing services side-by-side.
These apps are free for a limited time only, so if you see something you like, download it now before it is too late. You can let us know which free apps you've installed on your iOS device by posting those titles in the box bellow.
source:
BGR
Recommended Stories