Here are next week's 'T-Mobile Tuesdays' giveaways and sweepstakes prizes
1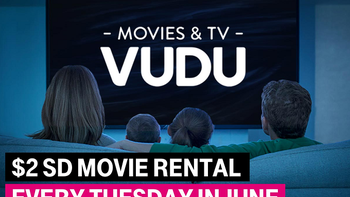 You might feel relieved that the working week is over, but before you know it, the whole weekend is gone. Well, that's what you get for binge-watching the second season of
13 Reasons Why
. And once you've recovered from that experience and returned to the real world, it will be back to the grindstone. The good thing about returning to work, if you're a T-Mobile subscriber, is that the next day you can pick up your weekly gifts via the T-Mobile Tuesdays app.
This coming Tuesday is June 5th, and T-Mobile subscribers will receive:
A $2 gift card for Dunkin Donuts.
Free World Cup stickers from Panini.
$2 Standard Definition movie rental from VUDU (every Tuesday in June).
Free Father's Day card mailed from Felt.
$30 tickets to see The Adventures of Kesha and Macklemore concert.
There is a sweepstakes this week. T-Mobile subscribers can enter via the T-Mobile Tuesdays app, and others can enter on Tuesday only by going to amoe.t-mobiletuesdays.com. Register to get one game play. You will find out instantly if you are a winner.
There are 200 prizes awarded this week. Each winner will receive "a T-Mobile-branded: a cooler tote, a beach towel, a pair of sunglasses, a portable charger, a tumbler and a frisbee." The value of each prize package is $95 making the total value of next week's sweepstakes $19,000. Good luck!
source: T-Mobile