HTC working on a 16-megapixel WP7 camera phone?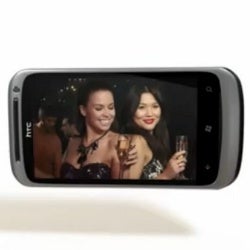 Just when you thought the megapixelrace was over and manufacturers focused more on the quality of thecamera than on sheer numbers, a leaked ad showed that HTC mightdouble the megapixels of its current high-end camera phones andrelease a 16MP camera-equipped heavyweight. The yet unnameddevice is expected to run on Windows Phone 7 and sport adual-LED flash. Unfortunately, that's where details start toget scarce, so as good as it sounds we would take this with a grainof salt.
If true, though, it seems that WP7might become a camera phone battle ring as just last week we heardrumors about Nokia planning to enter the platform with powerfulcamera-centric handsets. Currently, the 12-megapixel camera with Carl Zeiss optics on the Nokia N8 is one of the best(if not the best) snappers on the market. While HTC hasn't had thebest cameras out there, its latest models like the HTC Incredible S mark a noticeableimprovement. Could they surprise the industry with a premiumcamera phone? Check out the ad below and let us know your opinion inthe comments below.
source: Pocketnow